Prestations d'assistanat de direction bilingue
Interface projets internes en lien avec l'étranger
Organisation / Optimisation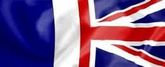 Providing bilingual P.A. services
Implementing connections with foreign partners for projects / business development
Organisation / Optimisation
Choisissez un accompagnement flexible par une personne à l'expérience confirmée,
en France comme à l'International.
Take the opportunity of a flexible support by a P.A. experienced on both working in France and with many foreign countries.
Concentrez-vous uniquement sur les aspects techniques et le développement de votre activité
et déléguez le reste !
Just concentrate on technical aspects as well as developing your activity and let me do the rest !